Mohamed, 30, joined anywr.life in July 2022. He tells us about his career and his daily life as a Qualification Validation Engineer.
Hello Mohamed, can you introduce yourself?
My name is Mohamed, I am 30 years old, I am Algerian with a Moroccan background.

I have a few hobbies in life: I love cooking and inviting friends to taste my dishes, I like meeting people and being able to talk for hours on several subjects, and music of course, I listen to everything but I am mainly interested in Andalusian music.

I chose France because it is ranked among the top countries in terms of quality of life. This level of comfort and the opportunity to live comfortably attracted me a lot.
Moreover, France is considered as a leader in Europe in the Life Sciences industry, and the opportunities for professional development in this field are more easily accessible.
What is your professional & academic background?
After graduating in Algeria with a Baccalauréat in "Mathematics", I started a professional training in industrial chemistry, majoring in "Industrial Pharmacy" at the University of Saad DAHLAB in Blida. During the training, I acquired theoretical knowledge in the field of pharmaceutical industry, process development, control and analysis of drugs.

After completing a Master 2 degree in Industrial Pharmacy in 2016, I joined several multinational and private pharmaceutical companies where I was able to extrapolate my theoretical knowledge, put it into practice and thus become more familiar with the requirements of the pharmaceutical field.
Tell us more about your job!
I am currently working for Aspen near Rouen (France) for a period of one year. It is a pharmaceutical company specialised in the manufacture of sterile products: from the production of active ingredients to the manufacture of products.

My main mission is to contribute to sterile and non-sterile qualification/validation activities, i.e. to ensure the smooth running of the various phases of the projects in progress (e.g. writing protocols and qualification reports for manufacturing, packaging and transport processes, determining the prerequisites for the qualification of storage areas for raw materials, bulk products and finished products).
What do you most enjoy about your job?
What I really like is the working environment, which is very pleasant, and this has been true since my first day in the company. My colleagues are very nice, helpful and they helped me a lot during my integration: the company has set up a very efficient and comfortable collaboration system. I always go to work with great enthusiasm.
If you had any piece of advice to give to someone planning to do the same job?
Validation Qualification is a really multidisciplinary field. The activities involved are all driven by national and international standards, and for this reason I feel that this is an appropriate career for people who are passionate about new technologies and industrial engineering.
What are your plans for the future?
I have just arrived in France. At the moment I would like to acquire more expertise within pharmaceutical companies and participate in projects that offer me personal and professional development.
How did you hear about Anywr?
I was actually contacted on LinkedIn by Emilie Grenet, and I really appreciated the quality of our discussions during the recruitment process and her professionalism throughout my expatriation project.

This is also my first assignment with anywr.life.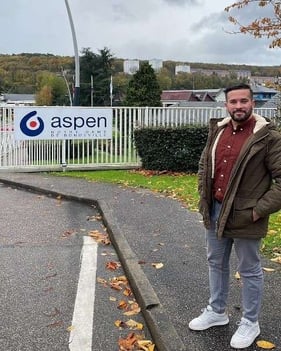 Thank you Mohamed for your testimony!
Want to know more about this job? Read our article : Focus on the Qualification Validation Consultant job
Are you interested in this job and want to change your life? Find our latest offers here : Our job offers
Inscrivez-vous à notre newsletter talent
Votre adresse électronique est uniquement utilisée pour vous envoyer les actualités de Cooptalis. Vous pouvez à tout moment utiliser le lien de désabonnement intégré dans la newsletter.