Ali, 41, joined anywr.life in 2021. He tells us about his career and his daily life as a New Works Engineer.
Hello Ali, can you introduce yourself?
I am 41 years old, and I am originally from La Chebba in Tunisia. I am married and have two lovely children.

I am fond of sports and more particularly of football! I chose to come to France to take my career to the next level: with the experience I gained in Tunisia I knew I had the skills to develop a successful career here in France.
What is your professional and academic background?
I graduated as an Electromechanical Engineer in 2005 at the National Engineering School of Sfax, Tunisia.

I gained more than 15 years of experience in the agro-food and pharmaceutical industries as a Maintenance and New Works Engineer.
Tell us more about your job!
I've been working for DSM Food for a year now as a Project Manager: I'm in charge of the whole cooling network of the factory, from maintenance to construction works.
My daily tasks include: defining the plant's cooling strategy, carrying out the viability study for new projects, defining the investment budget, coordinating, planning and monitoring the implementation of projects and works, ensuring compliance with safety regulations during the execution of the works, drawing up the intervention plans and work permits.
What do you prefer in your job?
What I really like about my current job is the good working atmosphere within the engineering office team. In addition, the training I have followed now allows me to guarantee the smooth running of projects in terms of safety: N1/N2 training, SST, H0B0V, and working at heights.

Since I have been assigned to this mission, I have been able to carry out and follow many exciting and innovative projects which has enhanced my professional experience.
If you had any piece of advice to give to someone willing to do this job?
In our job, there are always new skills to be developed and new challenges to be faced, you have to be prepared to learn and keep up to date. From an "experience" point of view, you become multi-skilled.
What are your plans for the future?
For now, I like the stability provided by my current assignment, and there are regularly new projects so it's very stimulating. With the arrival of my family in France, I was looking for professional stability and this suits me perfectly.
How did you hear about Anywr?
I was contacted on LinkedIn by Anywr. Since then, I have completed two assignments: the first one during 6 months at Delpharm and my current one during one year at DSM Food.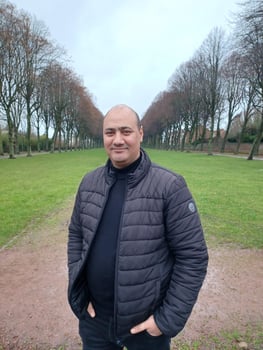 Thanks Ali for your testimony !
Do you want to know more about this job? Read our article : Focus on the New Works Engineer job
Are you interested in this job and want to have a change of life?

Find our latest offers here
Inscrivez-vous à notre newsletter talent
Votre adresse électronique est uniquement utilisée pour vous envoyer les actualités de Cooptalis. Vous pouvez à tout moment utiliser le lien de désabonnement intégré dans la newsletter.