You have just arrived in France, or you are planning to expatriate to France? Here is everything you need to know about Social Security, the flagship of French social protection.
Protection sociale, Sécurité sociale, CPAM, Assurance maladie... You are preparing your arrival in France and you are overwhelmed by all these terms and acronyms that you do not yet understand the meaning or the importance... And yet, social protection in France is taken very seriously and is, to this day, one of the most efficient in the world.
In this article, we will explain what the Social Security system is, how it works and, above all, how to apply for it when you arrive in France.
3 regimes, what else?
Social Security includes main regimes, and special regimes, each covering one or more specific socioprofessional categories and with different management and coverage:
the general regime, which covers the majority of the population: employees and self-employed workers (since 2018), as well as anyone entitled to residency (universal health protection);
the agricultural regime, which covers farmers and agricultural employees
special regimes, such as those for seamen, mines, SNCF (french railways), RATP (Paris transport authority), EDF-GDF (French electricity company), the French National Assembly, etc.
5 branches with a common core: protection
Social Security is made up of 5 entities, called "branches": each is in charge of managing one or more "risks".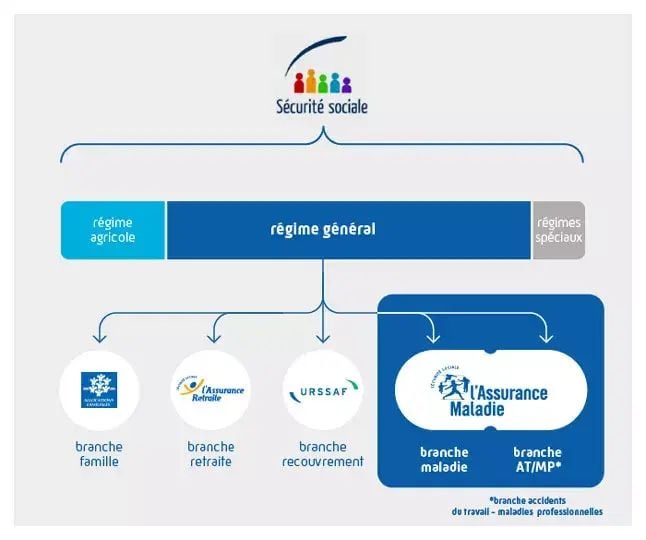 The family branch: Caisse Nationale d'Allocations Familiale
Its mission is to reduce inequalities regarding living standards between families by taking into account the number of children. It manages family benefits. It develops solidarity in 4 specific areas: support for families in their daily lives, childcare, access to housing, and the fight against poverty and disability.
The retirement branch: Caisse Nationale d'Assurance Retraite
It pays pensions to retirees from industry, services and commerce. From their first job, it follows employees throughout their career and helps them prepare for their retirement.
The collection branch: URSSAF
URSSAF provides employers and entrepreneurs with a simple and personalized service to ensure the efficient and fair collection and redistribution of social security contributions.
Sickness and work-related accidents/occupational diseases: Caisse Primaire d'Assurance Maladie
The health insurance branch covers the health expenses of the people insured and guarantees access to healthcare. It promotes prevention and contributes to the regulation of the French health system. It covers the risks of illness, maternity, disability and death.
The work-related accidents/occupational diseases branch manages the occupational risks faced by workers: work-related accidents, commuting accidents and occupational diseases. It compensates victims and determines the respective contributions of companies to the financing of the system, and implements a policy of occupational risk prevention.
Specific case 1: I am a foreigner and I work in France
If you come to France to work, your social protection and in particular the coverage of your health care costs depend on your status:
If you are a posted worker, your social protection remains with your employer and it is up to your employer to carry out the necessary formalities for your coverage in France. If you are temporarily posted to France (24 months maximum), you will continue to be covered by the social security system in your country of origin.

In order to claim healthcare coverage and refunds in France, you must request the S1 form from the health insurance organization in your home country before your departure. Once in France, you must submit it to your local health insurance office. You will then be covered for your health expenses like a French insured person. You will continue to benefit from your health insurance for all the care you received in your country of origin, as well as the members of your family who accompany you to France.


If, however, you are an expatriate, your regular professional activity in France allows you to be covered by the French health insurance system, without a waiting period (it is not necessary to have worked a minimum number of hours as an employee or a self-employed person). You are no longer insured in your country of origin and must contribute to the French social security system.

Before leaving for France, you must obtain the E 104 form from your affiliation organization and submit it to your French health insurance. This form summarizes the periods of insurance completed in your previous country of employment, which are taken into account as French periods of insurance for the purpose of opening your rights to health insurance benefits in France.
Your family members are also covered in France, whether they live there or not. If they continue to be resident in your home country, you must request the S1 form from your health insurance fund in France, and then submit it to the appropriate health insurance organization abroad.
Specific case 2: I am French and I am going to work in another country
If you are a French expatriate, i.e. you are a French citizen but you live and work in another country (except for posted workers), you must generally join the local social security system.
However, under certain conditions, you can voluntarily take out individual insurance with the Caisse des Français de l'étranger (CFE) in order to continue to benefit from social protection equivalent to the coverage available in France.
The CFE covers the following risks: illness, maternity, disability, work-related accidents, occupational diseases and pension. It offers all expatriate employees the choice of insuring themselves against one or more of these risks depending on their family situation, local particularities and also their financial possibilities.
Sources :
https://www.securite-sociale.fr/la-secu-et-vous/international
https://www.demarches.interieur.gouv.fr/particuliers/assurance-maladie-etranger-france
Inscrivez-vous à notre newsletter talent
Votre adresse électronique est uniquement utilisée pour vous envoyer les actualités de Cooptalis. Vous pouvez à tout moment utiliser le lien de désabonnement intégré dans la newsletter.