A Quality Assurance consultant working in the pharmaceutical industry is responsible for ensuring compliance with the most rigorous regulations and quality standards in the production of pharmaceutical products. They work closely with the production teams to keep the manufacturing and quality control processes in place and functioning properly.
What is a Quality Assurance consultant?
The role of the Quality Assurance consultant is very specific: to ensure that pharmaceutical products are manufactured under the strictest conditions of quality, effectiveness and safety. The health of millions of patients depends on it.
This professional is involved in the development of medicines, in particular through the following missions:
Deployment, review and improvement of QMS (Quality Management System) procedures: ensuring compliance with required regulatory and quality standards;

Ensure the management of CAPA (Corrective Actions & Preventive Actions) for the efficient and sustainable resolution of problems;

Manage the preparation of customer audits and participate in regulatory inspections;

Provide Quality Assurance support to the development, production and maintenance teams: train employees on quality policies and procedures to ensure a thorough understanding of these;

Contribute to the Validation / Qualification strategy;

Provide project management;

Analysis and diagnosis: researching causes, analysing changes to quality systems and tools and defining their implementation, dealing with major malfunctions, monitoring quality indicators and leading quality reviews.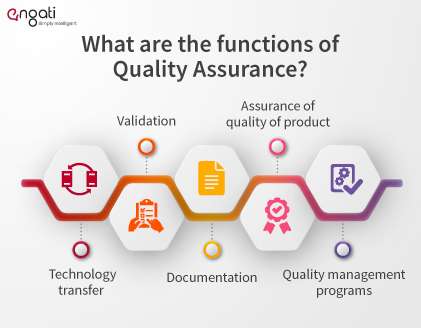 There are two types of Quality Assurance: Product Quality Assurance (focused on the quality of the product manufactured) and System Quality Assurance (focused on the quality of the company's entire production system).
The different missions of Product Quality Assurance
Batch review: evaluation of the file retracing the stages of manufacture and control of the medicinal product, on the basis of which the medicinal product batch will be authorised to be placed on the market (or not);

Product Quality Review: summary report produced annually for each product being produced, giving an overall view of all the events affecting a product during the course of a year. It enables the control of processes to be verified and is a major element in the continuous improvement process as it highlights any problems or deviations ("non-compliance");

Management of non-conformities (NC): these are failures or incidents occurring at a stage in the product life cycle. Depending on its level of damage, it may have consequences for the quality of the product and therefore for the health of patients. Its management consists of evaluating the NC, identifying the causes and implementing actions to correct it;

Customer complaint management: an important element of customer satisfaction, customer complaint management involves investigating the cause of the failure and taking concrete action to address it;

Product risk analysis: a systematic process that is part of a continuous improvement approach, making it possible to improve the performance of the process concerned, to guarantee the quality and safety of the use of medicines and to preserve the confidence of customers and patients. It can also be carried out on an ad hoc basis as part of the management of a quality incident in order to demonstrate that the quality of the product remains under control;

Quality inspections: operations carried out by the Quality Assurance department with other departments to verify the correct application of requirements and work instructions;

Other activities: carrying out internal and external (supplier) audits, participating in customer and regulatory audits, calculating performance indicators for the Product Quality activity, managing the documentation relating to the Product Quality activity.
The different missions of System Quality Assurance
Definition and maintenance of the QMS: establishment of the company's quality strategy, in particular by setting up the operational plan and checking that it is properly applied, as well as the definition and implementation of the quality assurance policy and its deployment;

Internal audit: setting up the annual internal audit programme and monitoring its implementation;

Supplier management: validation of supplier audit plans and quality assurance contracts with the various external partners, as well as the periodic evaluation of the various suppliers;

Customer and regulatory audits: management of customer and regulatory authority audit schedules, conduct of audit preparations and implementation of action plans;

Change control: centralisation of change requests issued by other departments and evaluation of their quality impact on the product and on the QMS. For this, defining an action plan and monitoring its implementation is necessary;

Regulatory and normative monitoring: definition of norms, standards and quality requirements applicable to the establishment and monitoring of their occasional updates;

Monitoring of performance indicators: definition and monitoring of KPIs for all the company's activities;

Other activities: implementation of a document management system and supervision of quality documentation, preparation of the company's management review.
What studies are required for this job?
To become a Quality Assurance consultant in the pharmaceutical industry, it is generally recommended to have completed a university degree (master's degree) in a science-related field, such as biology, chemistry, pharmacy or biochemistry. However, other educational backgrounds may also be relevant to work in this field, such as health sciences, environmental sciences or life sciences and quality management.
It is also common for companies to look for consultants with additional training in quality assurance (certification).
​
What opportunities and salary range can you expect?
The career and salary of a Quality Assurance consultant in the pharmaceutical industry will vary depending on a number of factors, including experience, level of education, geographical location and company size.
In terms of career progression, a Quality Assurance consultant may progress in their career to project manager, programme manager or quality director. They may also specialise in specific areas such as Regulatory Compliance or Regulatory Affairs.
In terms of salary range, the average salary of a Quality Assurance consultant in the pharmaceutical industry in France is around €50,000 to €60,000 gross per year for a beginner, with the possibility of reaching up to €100,000 per year as Quality Director.
Does this job catch your eye? Are you a CSV Engineer yourself? Here are our job offers
Do you want to know more ? Read the testimony of Sami, quality assurance consultant
Inscrivez-vous à notre newsletter talent
Votre adresse électronique est uniquement utilisée pour vous envoyer les actualités de Cooptalis. Vous pouvez à tout moment utiliser le lien de désabonnement intégré dans la newsletter.